Double Chocolate Keto Ice Cream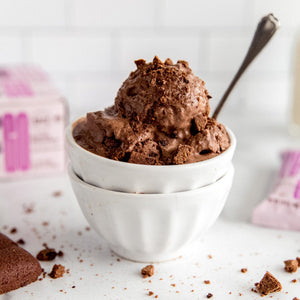 Keto chocolate ice cream is made with coconut milk, stevia sugar, cocoa powder and Good To Go Double Chocolate Keto Bars mixed in. Thank you, Haley (@ifyougiveablondeakitchen) for this yummy recipe!
Ingredients
5 GOOD TO GO double chocolate keto bars

Two 14 ounces cans of coconut milk (full fat), chilled

1 Tablespoon pure vanilla extract

¼ cup stevia sugar

¾ cup unsweetened cocoa powder
Instructions
1. Place a metal bowl in the freezer for 10 minutes.
2. While the bowl is chilling, chop up 4 GOOD TO GO double chocolate keto bars. Set aside.
3. Add coconut milk, vanilla, stevia sugar, and cocoa powder to chilled metal bowl. Use an electric mixture to combine the ingredients until the cocoa powder dissolves. Stir in the chopped keto bars by hands.
4. Transfer mixture to a 9-inch by 5-inch loaf pan. Freeze for 1 hour. Remove the pan from the freezer and stir the mixture (this will prevent the chopped keto bars from sinking to the bottom). Chop fifth GOOD TO GO bar and sprinkle it over the top of the ice cream. Freeze for 4 more hours or overnight.
Notes
Ice cream will keep in a covered loaf pan for up to 2 weeks.

This ice cream has a dark chocolate flavor. If you'd like sweeter ice cream, add another 2 to 4 tablespoons stevia to taste.
---
Share this article: