No longer a bad habit, snacking is quickly becoming a healthy and wholesome pleasure.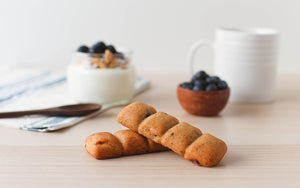 Snacking is a big part of the North American diet. A 2019 survey found that 57 per cent of participants snack once a day and another 31 per cent do it a couple of times a week. That means most of us are doing it. The popularity of the mid-morning, mid-afternoon or pre- or post-workout refueling has led to a boom in healthy and convenient options that can benefit physical and cognitive health. We're moving away from the idea of snacking as a bad habit and seeing it as a wholesome pleasure. 
 A snack should satisfy hunger, provide the energy to sustain concentration at a deep level and improve stamina. And it needs to be delicious because satisfying taste buds is a big part of well-being. 
 Like our three daily meals, snacks should contain real quality ingredients like protein, fruit and vegetables. To get a pleasant feeling of fullness and avoid spikes in blood sugar, choose snacks high in protein and fibre and stick to eating between 150 and 300 calories. But if hunger strikes more often, before reaching for another snack, ensure you're taking in enough water and nutrients and calories at breakfast, lunch and dinner. Before reaching for something to eat, try tuning into what the body needs. Could you be bored or looking for a distraction during a stressful day? In some cases, a short, brisk walk or listening to a 15-minute relaxation meditation might be a better solution. 
 Rather than feeling the pressure to make everything from scratch, it's a relief to find delicious, nutritious snacks you can trust to tuck in a desk drawer, the glove compartment, or your gym bag, leaving you more time to turn up as your best self to whatever activity demands your attention. A sure sign of a healthy on-the-go snack is a small and organic list of recognizable ingredients. Ingredients like probiotics and plant-based protein are now often added to improve overall health. Inulin—a soluble plant fibre that acts like a prebiotic, feeding good bacteria in the gut—is used to boost fibre. Zero-calorie sugar substitutes keep blood sugars level. Protein from nuts like cashews and seeds like chia are high in fibre, contain essential vitamins and minerals like magnesium and calcium, all of which are good for heart health. Omega-3 rich blends of vitamin E improve cognitive function. Natural preservatives like rosemary extract are replacing some lengthy lists of chemical additives so snack lovers can rejoice!
On the way to a spin class, craving dessert or on a tight deadline at work, it's a relief to have convenient and nourishing snack options like GOOD TO GO bars. These soft baked bars come in 8 delicious, mouth-watering flavours like Blueberry Cashew and Cocoa Coconut. With a cake/cookie-like texture, not found in most snack bars, these won't melt and even taste great warmed up. They are low in sugar, high in fibre and rich in plant-based fats thanks to its almond flour base so that you can feel good about your snacking choices. Not only are they gluten free, but also grain free, vegan, peanut free, and non-GMO project verified. Each bar contains up to 8 grams of fibre—just under 30 per cent of daily needs—6 g of protein, 2 g or less of sugar and are only 160 calories. As a B-corp and 1% for the Planet member, GOOD TO GO is not only good for you, but also for the planet. GOOD TO GO bars are made in a certified zero waste bakery - because clean, healthy food and a clean environment go hand in hand.
---
Share this article: