#LetsGoGTG Ideas to stay active outdoors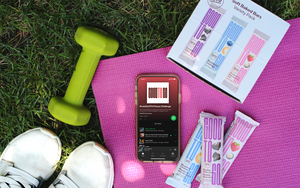 Aside from the physical benefits of regular exercise, taking your workout outdoors can positively impact your mental health. Sunny days and bright, warm rays will shower you with plenty of vitamin D to boost your mood throughout your workout. Be sure to get out during the time of day that works best - whether you prefer to sweat it out midday, or take advantage of the cooler morning or evening hours - there are plenty of options. Toss in your headphones and get in the zone to tone! GOOD TO GO has a stellar playlist available on Spotify to keep you motivated throughout your sweat! Check it out here.
Here are some ideas to get you moving and grooving.
Take your virtual class outdoors! 
Virtual fitness classes such as yoga, strength training, HIIT (high-intensity interval training), Pilates, and all types of dance are on-trend right now. If you aren't subscribed to a particular fitness class, don't worry! A quick Google or YouTube search will give you hundreds of free workout routines. Find one that best suits your workout style, grab your mat or a towel, and head outside! A little sunshine, a change of scenery, and some fresh air will surely shake up your usual workout routine and leave you on a new level of bliss.
Get your gang together for an outdoor group class and enjoy a socially distanced sweat at a local park with a fitness instructor
Fitness clubs across the country are switching their usual style and opting for outdoor group classes instead of hosting at their usual indoor centers. This genius idea allows you and your group to stay social while also providing ample social distancing during your workout! It's always a little more motivating to have others to exercise with. If you aren't a part of a fitness club, search Facebook or Google for local instructors offering classes. You'd be surprised by all the fun fitness activities happening around you. So join in on the fun!
Change up your usual routine and do something daring
Maybe you've always wanted to hike that mountain, blaze that trail, or climb some rocks. Now is your chance! Take full advantage of the glorious weather and use this opportunity to step out of your comfort zone. Research nearby or within driving distance hiking trails, mountains, and reserves in your state or province for the one that suits you best. You will get a killer workout, but you'll also feel a new sense of accomplishment after you've tried something new!
The tree workout
Who needs fancy equipment when you have good old Mother Nature? Find a tree in your yard or at a local park with a sturdy branch at a reachable and reasonable height for yourself. Try to think of your sturdy branch as a pull-up bar and the tree's trunk as a wall. There are so many possible exercises you could do with this "all-natural" equipment at your disposal. Give some of these a try: pull-ups, chin-ups, leg lifts (with bent knees, straight knees if you want that extra push), walk-up handstands, handstand push-ups, handstand mountain climbers, inverted sit-ups, and wall sits (try 30 seconds to start).
Easy bodyweight circuit you can do anywhere
Use any combination of these exercises to achieve a full-body workout using only your own bodyweight! No equipment necessary! The goal of a circuit workout is to keep your heart rate up the entire time, so try to take little to no rest between exercises to maximize the benefit of the circuit. Set a goal for yourself for how many of each exercise you would like to do and try to increase it each week. You got this! Some excellent exercises are jumping jacks, push-ups, V-ups, sit-ups, crunches, squats, sumo squats, walking lunges, burpees, planks, and hollow-holds.
Before you head out for the day, be sure to pack a full bottle of water (we love reusable ones and so does the planet!) and a perfect post-workout snack. Grab a GOOD TO GO Snack Bar on your way out the door to satisfy your hunger after all your hard work! The Strawberry Macadamia Nut and Raspberry Lemon are the perfect flavors - with real fruit bits in each bar. They're satiating, refreshing, and the perfect snack to keep your energy up without the sugar rush. They're just the right size to toss in your bag or pocket on your way out the door and don't melt! So lace up your shoes, stay hydrated, and let's go outside!
---
Share this article: