Fun recipes to get your kids involved in the kitchen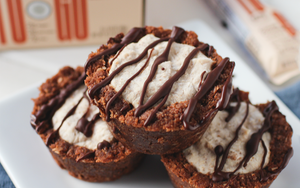 Now more than ever, our homes have become a refuge. Kitchen tables have become home offices and classrooms; parents are multi-tasking, remote employees and teachers all in one. Trips to the grocery store have become less frequent and lately you've found yourself having to work with what you have on-hand. Snack time doesn't have to add to your overall exhaustion. Get those tiny hands moving, those gears turning, and those aprons on because we have some healthy snack recipes that get the whole family involved! Not only are these recipes fun and delicious, check out the educational opportunities involved along the way!
Sweet Treat Pizza Pie
Total Time: 20 minutes
Ingredients:
3-4 GOOD TO GO bars in a flavor of your choice
1 cup chilled heavy cream
1 teaspoon natural sweetener (preferably powdered)
½ teaspoon vanilla extract
1 cup berries of your choice, chopped
*Substitution: If you do not have heavy cream handy, substitute with whatever whipped cream you have available. Exclude heavy cream, sweetener, and vanilla from recipe.
Directions:
Break the GOOD TO GO bars into 4 pieces. Shape all pieces into a circle or whatever shapes you would like. (Tip: Get creative! What shapes can you make?)
Using a rolling pin or your hands, flatten the bars to desired thickness for crust. Set aside.
Combine chilled heavy cream, natural sweetener, and vanilla extract in a large mixing bowl. Using a hand mixer, begin to whip on a low setting. Bring the speed up to medium and continue to whip until the cream forms soft peaks. (What are soft peaks? Soft peaks form when you pull the mixer out of the mixture and a peak forms but does not hold its shape).
Using a rubber spatula, scrape the whipped cream from the bowl and spread across your GOOD TO GO pizza crust.
Place pieces of fruit on top of your whipped cream. (Tip: How many pieces of fruit did you count?)
Use a pizza cutter to divide into equal pieces. (Tip: have the kids cut the pizza in half first, and then quarters for a learning opportunity about fractions!)
Chocolate Mousse Cookie Cups
Total Time: 30 minutes
Ingredients:
3-4 GOOD TO GO bars in a flavor of your choice (Chocolate flavors work best)

3 ounces cream cheese, softened

½ cup heavy cream

1 teaspoon vanilla extract

¼ cup natural sweetener

2 tablespoons cocoa powder

1 pinch of salt

Chocolate chips, raspberries, or whipped cream for garnish
*Substitution: if you do not have the ingredients needed to make the chocolate mousse, you can use sugar-free chocolate pudding. There will be a slightly different texture but still tastes great!
Directions:
Break apart GOOD TO GO bars into equal pieces. Using 2-3 pieces, press firmly into bottom and sides of lightly greased muffin pan cups leaving the center hollow for filling. Place in refrigerator to chill. (Tip: using your hands to press the bar pieces into the muffin pan exercises the small muscles of the hands and promotes fine motor skills)
Place cream cheese in a large mixing bowl and beat with electric hand mixer until light and fluffy.
Add heavy cream, vanilla extract, sweetener, cocoa powder, and salt. Mix on a low speed until well mixed.
Spoon chocolate mousse mixture into GOOD TO GO cookie cups evenly. (Tip: use this opportunity to practice your measuring and eye-hand coordination skills!)
Garnish with chocolate chips, raspberries, or whipped cream.
 KETO Cake S'mores:
Total Time: 10 minutes:
Ingredients:
2 GOOD TO GO bars in a flavor of your choice (Vanilla Almond or Cocoa Coconut work best)
4 sugar-free marshmallows
4 squares of dark chocolate
Directions:
Break apart GOOD TO GO bars into equal pieces.
Using a rolling pin or your hands, flatten each individual piece to desired thickness while maintain square shape as best you can.
Place dark chocolate squares on top of four of the GOOD TO GO squares.
Place marshmallows on top of each chocolate piece.
Sandwich together with the other four GOOD TO GO squares.
If you would like to heat up your s'more, place on a piece on parchment paper and heat in the microwave for 10-15 seconds.
---
Share this article: